Christine Parker to Release Debut Solo Album Produced by Marti Amado
October 12 2013

All roads lead home was definitely the case for Fallbrook native Christine Parker, who left her job as a therapist in the Midwest to return to San Diego in pursuit of a music career. Parker, whose eclectic vocational journey included time spent as a wilderness guide, Starbucks barista, log cabin builder, and theological seminary student, will celebrate the release of her first full length solo album, "Looking Glass," arranged and produced by Marti Amado, with a party and concert on October 12 at Lestat's West Music Venue in Normal Heights. The event will start at 9 p.m., and will be led off by singer-songwriter Chad Taggart as an opening act for Parker.
"Looking Glass" began in a very grass roots way. "At the encouragement of friends and family, I tried recording some of my own songs with Pro Tools on a laptop just to see if I could do it, and to see if they sounded good," says Parker. Determined to master Pro Tools in spite of what she calls "chronic technical ineptness," she took a month off from her work as a therapist in Missouri to take a series of audio recording classes at TRAC/Studio West. Parker met Amado while at Studio West, and hired the veteran producer to help evaluate her home recordings and to create instrumental arrangements and production around the vocal and guitar basics. "Christine's really remarkable," says Amado. "Not only was her pitch spot on and her voice gorgeous, but her rhythmic time is so good that we could easily use top session players after her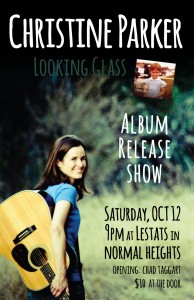 basic tracks were laid down and have the grooves feel tight and organic as if they all had played together. As soon as I heard her first song, I jumped at the chance to work with her," she adds.
Tracked by Kellogg Boynton IV and Mike Harris, and mixed by Mike Harris at Studio West, "Looking Glass" features some of Southern California's top musicians as sidemen, (many of whom also will play the CD release concert), including Bobby Sale on drums, Tommy Aros on percussion, Rick Nash on bass, Marc Intravaia on guitars, Dennis Caplinger on mandolin, fiddle, banjo & dobro, and Carter Dewberry on cello. Amado and Ben Moore add organ tracks and Colin Tedeschi and Parker provide backing vocals. (visit christineparkermusic.com for more details).
Additional Links:
San Diego Troubadour Review
George Varga Union Tribune Story and Interview