San Francisco Film Director Carlo Caldana Casts Singer Francesca Sola and Arranger / Producer Marti Amado to Record Songs for New Film
April 1 2014
San Francisco-based indie film director and composer Carlo Caldana was looking for an angelic voice to record vocals on two original songs slated for inclusion in his upcoming film, "Smile Again, Jenny Lee." Caldana found her on Youtube: Los Angeles Classical Crossover singer, Francesca Sola. Miss Sola's Youtube performance of the song "Vincent" (by Don McClean), performed when she was just 14 years old, brought Caldana to tears and he knew he had found his singing angel. He then began his search for an arranger-music producer in Southern California that could take his piano compositions and expand them with instrumentation and vocals. After a long Internet search, the film director found arranger/producer Marti Amado's website and liked what he heard there and got in touch.
"Carlo's ear is really amazing!" said Amado. "For him to have cast Francesca as the vocalist and me as the arranger/producer for his songs, never having worked with either of us let alone met us was a bold move! But the fit was so perfect! We were on the same page from the beginning about the direction the songs should take, and Francesca (now 21) did an incredible job on the vocals," Amado added.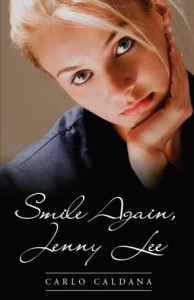 The two songs, "Always in My Heart," and "Night Ride," were first rendered as piano pieces by Caldana and then re-interpreted by Amado for nylon string guitar, Latin percussion, bass, flute, strings and vocals. "Marti seemed to know right away the sound I wanted for the arrangements. She integrated classical, pop, and Latin elements, that created just the right feeling, but never overshadowed Francesca's beautiful voice," said Caldana.
The film, "Smile Again, Jenny Lee," based on a novel by Caldana with the same title, is the story of a rising, but unpopular star in the professional tennis world. After a mysterious accident brings her career to a halt, Jenny decides to search for her father who abandoned her as a child. Her search for the truth about her father eventually leads her to uncover the mystery of her accident. Produced by Marguery Films, "Smile Again, Jenny Lee," is currently in pre-production with filming tentatively scheduled for early 2015.
Miss Sola was recently featured in a performance with the San Diego Opera and continues to perform and record as a solo artist in both operatic and classical-pop genres.
Additional Links:
Carlo Caldana
Francesca Sola